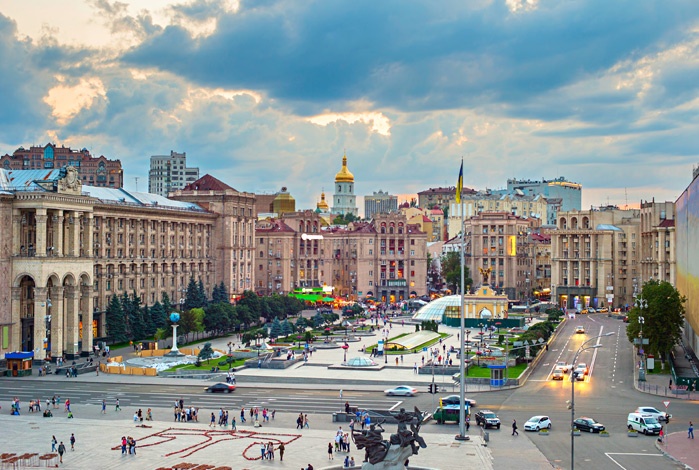 Is Ukraine too unstable a place to consider doing business there? Given the strength of the CEE region in regards to outsourcing, should this Eastern European nation be bypassed for other countries in the region?? Are the previous high ratings from Gartner and AT Kerney superseded by the political challenges with its significant neighbour Russia? The immediate answer to all of the above would seem to be "yes", of course. But is that actually the most accurate view of the situation?
In October, US political analyst Phil Butler declared that the 'civil war' that's gripped the country's disputed eastern region is 'over,' with a number of Western corporations, including Dutch Royal Shell and ARCO, resuming commercial operations there. Confirming this point, perhaps, is the fact that Ukraine's ranking has risen 13 places in the World Bank's 'Doing Business' annual global list, surprisingly appearing just behind Saudi Arabia.
The republic has a lot of work to do to become a politically and financially stable region on par with the Czech Republic and Slovakia, two of the strongest outsourcing destinations in the CEE. While there is no questioning the skill-base from within the country, Ukraine's challenge is to reassure Western businesses that it can handle the work and that the political unrest will not affect its ability to deliver on IT contracts. The country's leaders seem honest enough in their repeated claims that they are serious about fixing issues – and if they do, there really is no structural reason this former USSR component can't do really well.
The Ukraine is already a force in outsourcing after all, and has a set of structural advantages only likely to make it stronger in the field. In March last year it was tapped as one of Gartner Group's top 30 offshore locations, for a start. It also has tremendous potential in terms of its local human capital, tech-business wise. Ukrainian coders are consistent high-flyers when it comes to international programming contests, for example, such as the Google Code Jam, Facebook Hacker Cup and ACM events. At the same time, India, a longtime offshoring leader, has a literacy rate of only 52% - compared to 98% in Ukraine.
First ever Polish-Ukrainian shard services and outsourcing get-together
Possibly a better metric for professional competence might be the fact that Ukraine is producing a steady stream of technology graduates, who often transition into the sector after studying numerous university subjects like Physics and Mathematics. To aid their employment prospects, meanwhile, Ukrainian's tertiary education places a big emphasis on language training, which means that their graduates come on to the job market with a range of attributes of great interest to multinationals.
Their government also wants these smart young people to do well, supporting a growing culture of science-based R&D to spawn new firms of all sorts, not just IT. Given it's the twelfth-largest economy in Europe but one of the more modest per capita income rates, it's not hard to judge why this is a national priority.
Kiev is also looking West – not just to counter its problems with Putin, but to forge new partnerships to support renewed growth. An intriguing example is a special conference set for mid-November with its immediate neighbour in that direction, Poland. The idea of the first-ever Polish-Ukrainian Shared Services and Outsourcing Forum is to create ways to develop this sector in the two partner countries, we are told.
Putting it all together, the sober verdict seems to be that it's probably only going to be the bravest of outside investors who doesn't see any reason for caution in terms of inward investment here. With outsourcing powerhouses such as Bulgaria, Czech Republic and Slovakia operating in stable environments, Ukraine's reassurance job is a tall order. But at the same time, the sheer geography and convenience of this massive landlocked European country, the potential of its natural and human resources and the willingness of its inhabitants to work with Westerners suggests that's probably not going to stay true for that much longer.
Originally published in Sourcing Focus.